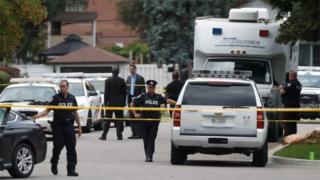 Toronto police have charged a 35-year-old man after three people were found dead in a suspected crossbow attack.
Brett Ryan was arrested on Thursday and charged with three counts of first-degree murder.
Police had responded to reports of a stabbing in Scarborough, a suburban area east of the city's downtown area, when they found the three victims.
The injuries appeared to have been caused by a crossbow bolt, which was found near the victims.
All three victims, two men and a woman, sustained life-threatening injuries and died at the scene, police said.
Authorities have not released the victims' identities pending notification of family.
Hours later, authorities evacuated a Toronto building due to a suspicious package.
Police said the two incidents were connected, but gave no further details.
Mr Ryan is expected to appear in court on Friday.
Toronto man charged over crossbow triple murder